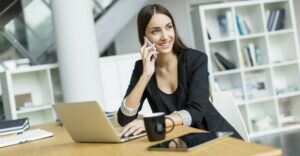 You're sitting at your cubicle and staring at the clock ticking while the workday passes slowly.  You miss spending more time with your family and catching more of your children's events.  Your boss is hounding you to turn in assignments by the end of the day, and all you can think about is how much you want to start your own business. However, too many stressful thoughts loom over you as you picture yourself as a CEO, such as "I don't have enough money to start a business," or "I don't have enough training in many fields."  You will be elated to know that owning Tax Preparation Franchises is not as daunting as it may seem, and you will be skipping happily out of your former office on your last day.
With training such as that provided entirely by Prestige Tax Office, everything you need to know to open Tax Preparation Franchises will be covered in one place.  You will learn how to use the required software, understand tax law and have coaches to help along the way.  Rather than costing figures in the tens of thousands that most individuals will likely think of when they ponder opening a business, Tax Preparation Franchises require a minimum investment in the lower hundreds to get started and have support.  The best part of starting your journey in tax preparation is you only need a computer. Everything needed to run your business is digital, from training to paperwork.  Save time, money and the environment with paperless Tax Preparation Franchises.
In order for you to be able to file tax returns for your clients, you must be registered with the IRS and have the mandatory identification numbers.  Support from professionals such as those at Prestige Tax Office can walk you through this important process, although it is not as arduous as it may seem.  Once you have your identification numbers, training and tools, the most important piece of opening Tax Preparation Franchises are obtaining clients. Companies such as Prestige Tax Office can assist with marketing strategies and products.
Before you know it, you will be out of your former boss's door and becoming your own boss. All the tools you need will be at your fingertips, and you will soon be passing out business cards and helping with a process that all individuals must go through. With your own Tax Preparation Franchise, you will be making each of your days brighter and others' lives easier.